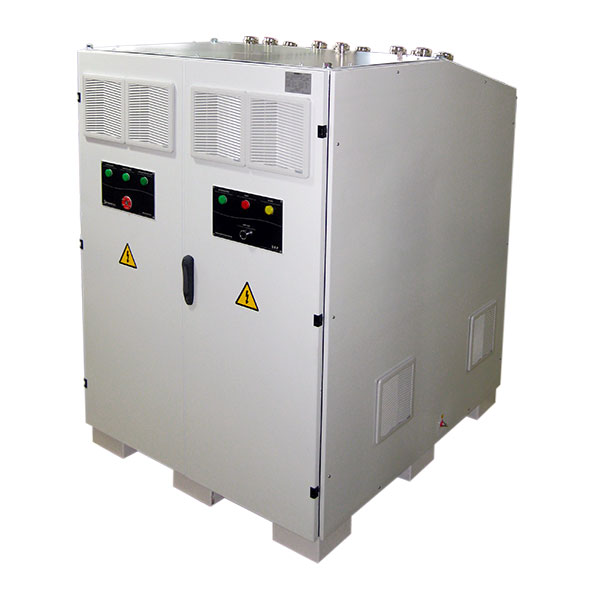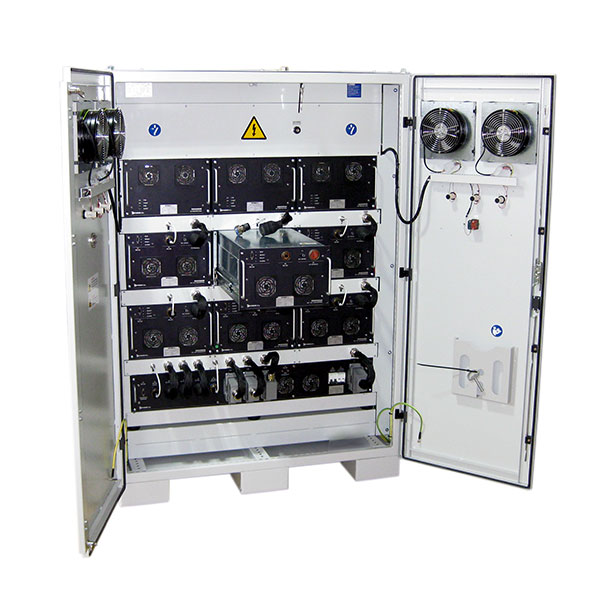 Power Adaptation Systems (S.A.P.), developed by SUPSONIK, S.L. are equipment for the exchange of energy between two sources of DC voltage.
This energy exchange usually occurs between a Fuel Cell, Photovoltaic Panel or DC Bus as input sources, and a Battery or other DC Bus as output source.
In the event that the input sources are Fuel Cells or Panels, the converter performs a unidirectional transfer of energy to the output source. However, when input and output sources are DC Buses or Batteries the transfer is bidirectional, allowing current flow in both directions
Unidirectional S.A.P. supports an external current setpoint that indicates the power to be drawn from the input source, behaving like a smart and programmable load. This energy is dumped on another DC bus, battery or even a discharge resistor.
This makes it easy to build test benches for this type of source that allows to perform all type of tests on stability, dynamics, overloads, etc.
In contrast, in the case of the bidirectional S.A.P. the control setpoint is the voltage on one of the buses. S.A.P. monitors and stabilizes the voltage of such bus, taking or dumping energy in the other energy source.
A typical application of this type of bi-directional equipment is energy management in electric vehicles such as cars, buses, railway equipment and submarines.
The electric motors associated to these transport systems take energy from a main bus and are connected to a bank of batteries or supercapacitors through an S.A.P. It allows to absorb the energy returned during regenerative braking and provides energy in the event of accelerations, greatly improving the dynamic response of the entire driving system and energy efficiency with the recovery of energy.
Main characteristics of the Power Adaptation Systems (S.A.P.):
Rated power 55 kW, 110 kW, 330 kW, 500 kW
Unidirectional or bidirectional operation mode.
Input Voltages 24V, 60V, 125V, 375V, 600V (consult others)
Management of 1, 2 or 3 Input branches.
Intensity per branch of 100 A, 200 A, 300 A, 500 A.
Output voltages 24V, 125V, 360V, 600V (consult other versions)
Output current up to 1250 A.
Interface with customer´s SCADA, control by MODBUS, ETHERNET, etc. ..
User software with all processes controlled from a PLC.
Remote and local control
The wide variety of input and output voltages combinations of these Power Adaption Systems makes it necessary to particularize their design to the requested requirements. The Technical Office department of SUPSONIK, S.L. - in close collaboration with the Client - performs all necessary analyses so that the characteristics of these equipments satisfy all demanded requirements and adapt to the specific needs of the Client.